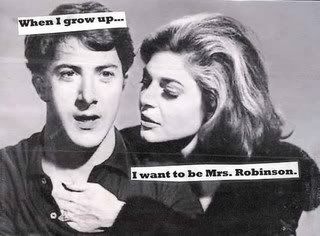 "Mrs. Robinson, if you don't mind my saying so, this conversation is getting a little strange."
~Benjamin Braddock (Dustin Hoffman) in The Graduate~
Since I had always been attracted to older men, at first I had trouble comprehending the whole Cougar-mania craze. However, the older I get, the older men get (I know, I'm a rocket scientist) and the less attracted I am to them. (There is NOTHING sexy about a Depends undergarment underneath running shorts) As a self-appointed gym rat, I have, in the last couple of years, noticed that my eyes tend to "survey" the, shall we say, "Cubs." *Meeeeow* It is not so much their sweaty, glistening, hard bodies *DROOOOL* but rather the energy that comes with their youth. You gotta love that energy and that zest for life! It's intoxicating!
Well, since I can safely give up my dream of becoming a Pussycat Doll, I guess I could "settle" for becoming a Cougar. *MEOWING, KICKING and SCREAMING!* Sad day indeed when you have come to the realization that at least six of your nine lives are over. So, what's a cat to do whilst waiting for the tranquilizer dart that will send me to that great big "litter box" in the sky...enjoy my remaining lives, that's what!
I didn't even know what a "Cougar" was until a couple of months ago. My parents were visiting right at the time I was going through a break-up with a "weasel" (just trying to keep it in the Animal Kingdom, people). My Dad, God love him, in his efforts at trying to cheer me up and with one arm around my shoulder said to me, "Why don't you become a cougar?" I looked at him through my tears and retorted, "A WHAAAT?!! What the hell is a cougar?" "You don't know what a cougar is?" "Um, no Dad, what is a cougar?" "A cougar is an older woman who enjoys the company of younger men." [What I heard was, "Since you didn't become a doctor or a lawyer, why not a cougar?"] Okay, Dad, I know your heart is in the right place, but that is just wrong on so many levels! But what the hey, I'm listening...proceed!
So last night I had a dream (nightmare) that I was on the prowl; I had finally received my cougar badge. I'm at the gym on a treadmill next to the "pièce de résistance" of hunka, hunka burning loves. I begin to growl, subtly. However, the noise from my "preys" pounding paws on the treadmill, drown out my lame attempts. I begin to growl louder, and louder, AND LOUDER!!(You can run but you can't hide) My cub reaches up and slows his belt to a trotting speed, looks over at me with the sweetest eyes and says, "Excuse me "Ma'am" (oh no, you did not just call me Ma'am!!) did you just growl?" "Well, it depends...did you like it?" I ask. "Excuse me?" he replied. No, no NOOOOO, you are not playing along, "Sonny!" You are supposed to say, "Mrs. Robinson, you're trying to seduce me, aren't you?" You see what I mean? You just can't send a cub to do a Lion's job. What would we talk about anyway? Oh, yeah, right. Thanks for the encouraging words, Dad, but I think I'm gonna wait a couple more years.
And here's to you, Mrs. Robinson, Jesus loves you more than you will know. God bless you, please Mrs. Robinson. Heaven holds a place for those who pray (not prey).
Koo-koo-ka-choo, Mrs. Robinson....enjoy the following tribute and have a beautiful weekend,
The Paper Whisperer
http://www.youtube.com/watch?v=TnW59E-zyZY